Be Your Best, for the Children Who Need It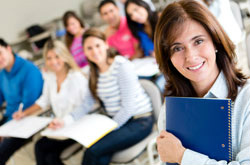 We offer an extensive selection of workshops and training programs designed to provide educators and parents with the tools & knowledge necessary to teach children with Autism and developmental delays. Each of our sessions deliver instruction in a way that's easy to understand and apply; leaving administrators, teachers, therapists, and paraprofessionals better prepared to grapple with the challenges that students with disabilities face.
Check out the Top 5 Workshops for School Professionals in 2018-2019!
Some of the workshops we provide, include:
ABA 101: Basic Principles of Behavior
Understanding & supporting challenging behaviors
Environmental & Preventative Planning
Data Collection
Assessment
Building a successful behavior plan
Introduction to Autism Spectrum Disorders
Advanced Autism Spectrum Disorders
Visual Supports
Discrete Trial Teaching & Natural Environment Training
Shaping, Chaining, Prompting & Fading
Effective communication
Incidental teaching & data tracking
Verbal behavior 101
ABA & Social skills
Additionally, we offer comprehensive, customized training seminars and workshops upon request.